Soaps * Lotions * Creams * Shampoo
We would like to thank our customers for their valued online feedback, helping a host of skin complaints, ie; Eczema, Psoriasis, Rosacea, also helping those with dry skin. You can feel confident using our products which are stocked in many pharmacists and can be used on any age and any part of the body, also helps to maintain healthy skin. We use our own Goats Milk which contains high levels of Vitamin A, blended with organic Coconut and Pomace oils.
After popular demand we have now extended our range to include Skin Cream, kefir lotion which contains many probiotic health benefits soothing to the skin, and Shampoo using paraben free ingredients.

FREE Postage on order over £ 20
*Group talks available*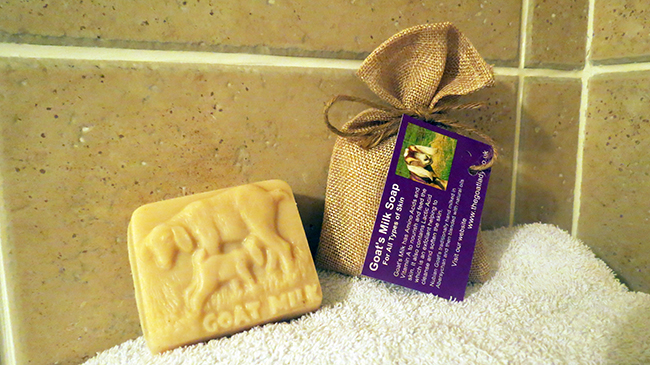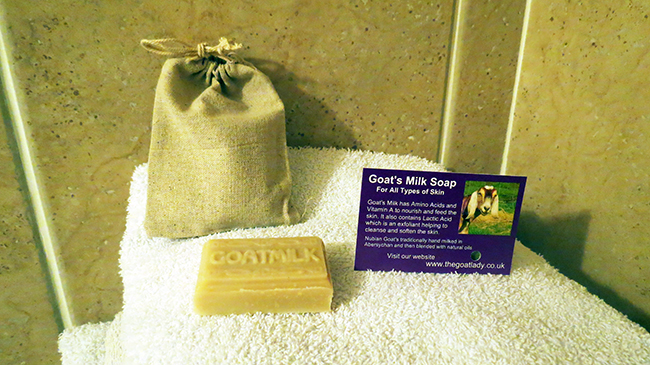 ---
Members of The Guild of Craft Soap and Toiletry Makers
---
My husband brought some of this home to try on our daughter as she has terrible eczema flare ups, not had one since using this soap its amazing and have told my friends about it to. Leaves the skin feeling wonderfully soft and smooth

I met The Goat lady and the lovely Clara at a fair at Henllys Village hall. Fab lady who dotes on her beautiful goats!

🐐

Her goats cheese was the best I've ever tasted and the soap very soothing!

😊

Fantastic product. I sell them at Butterflies Holistic Therapy for clients with Psoriasis, Eczema & Dry Skin issues.

First time of use wish had I heard about this type of soap before both wife and my self use nothing else now

Absolutely amazing soap! Having suffered with dry hands for years I can 100% recommend this product.

I haven't been able to use soap on my face in years with a bit of trepidation I tried it today. Well Hallelujah face feels good also have under active thyroid which gives me dry flaky skin and again the soap works thankyou Sally will definitely be ordering more for Xmas

Thank you! Was so gentle and soothing on my one year old boys chicken pox covered skin...first smile I've seen in days xx

The soap is wonderful on the skin and good for you as well !!

Been using the soaps since receiving some as a Christmas gift, my skin feels great. I rarely use additional body moisturiser now for my dry skin. Great product.